Our seniors are very active at Athens Christian Church. We have many regular activities available for this age group, including trips, dinners, and outings.
This group meets every second Tuesday of the month (September-May) in our Family Life Center from 10:00 AM until noon. We invite you to join us every month for an enjoyable program, fellowship, brief devotional, and tasty lunch (free of charge). There are free blood pressure screenings from 9:30 a.m. - 10:00 a.m.
Check out the 2021-2022 Schedule below and plan to join us!
Senior Fitness
by Joe & Anna Tabit of Route 29 Fitness
Devotion: Barb Siddons
Meal: County Market: Meatloaf, augratin potatoes, green beans & rolls
Devotion: Lorna Baker
Meal: Boars Nest: Turkey, dressing, gravy, sweet potatoes, cranberry salad & rolls
Athen Jr./Sr. High Choir Christmas Performance
Devotion: Shane Baker
Meal: Ham, potato salad, mixed vegetables, cherry salad & rolls
Devotion: Ken Gennicks
Meal: Chili, soup, sandwiches & crackers
Refuge Ranch
by Jen McCormick
Devotion: Morgan Wells Meal: Boars Nest: Spaghetti, lettuce salad & garlic bread
Devotion: Tyler Basso
Meal: Chicken noodle and tuna noodle casserole, carrot salad, green beans & rolls
Life Lessons
from Abe Lincoln
by Christian McWhirter
Devotion: Gary Frank
Meal: County Market: Barbecue Beef, macaroni salad, vegetable tray & buns
Gardening
U of I Extension
by Jennifer Fishburn
Devotion: Terry Henrikson
Meal: Sandwiches, deviled eggs, jello salad & chips
The group gets together periodically and travels to local museums, shops or restaurants. Check out the trips below!
Garden Tour
@ Gil Opferman Home
Leave Church @ 10:30 AM
Cost: FREE
Saturday, November 13, 2021
Tuscola Outlet Mall & Lunch at Yoders
Leave Church @ 9:30 AM
Cost: Lunch and Shopping
Saturday, December 4, 2021
Vespers Matinee
Milikin University & Dinner at Cracker Barrel
Leave Church @ Noon
Cost: $10-$15 for ticket plus the cost of your meal.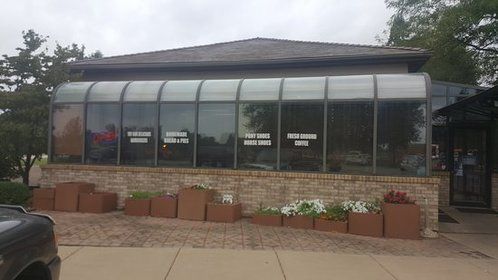 Saturday, January 15, 2022
Dinner & A Movie
Tasty Cafe and
Movie @ ACC
Leave Church @ 4:30 PM
Cost: Cost of your meal.
Thursday, February 17, 2022
Abraham Lincoln Museum Tour
Lunch at Obed & Isaacs
Leave Church @ 11 AM
Cost: Museum $12 + Lunch
The Conklin Barn III
"Live From the Barn,
It's the 70's"
Leave Church @ 4 PM
Cost: $48 (Meal included)
Owens' Nursery
in Bloomington
Lunch at Cracker Barrel
Leave Church @ 9 AM
Cost: Plants & Meal
Starved Rock
Trolley Tour
Lunch at The Lodge
Leave Church @ TBD
Cost: $12 for Seniors